Rimutaka Rail Trail
Pakuratahi Forest | Intermediate | 18 km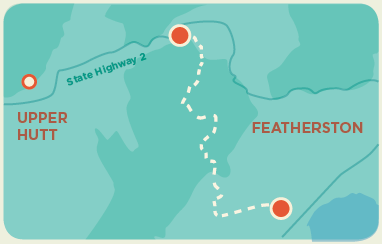 The Rimutaka Rail Trail follows the old railway route from Upper Hutt to Featherston, running 18km from Kaitoke to Cross Creek.  The trail features restored railway bridges and historic tunnels, so make sure you have a bright bicycle light or headlamp.
The ride up to the Summit from Kaitoke is an easy gradient, however the ride from the Summit down to Cross Creek is more difficult, require riders to dismount as they pass through 'Siberia' gully.
The trail is significantly steeper on descent down to Cross Creek.
To get to the Rail Trail's Kaitoke Entrance car park, turn off SH2, 9km north of Upper Hutt. The car park is 1km along a metal road.
In the area…
Riverfern Restaurant, Stonestead Devonshire Teas, Staglands Country Cafe, Kaitoke Country Gardens, Wellington Family Speedway, Te Marua Golf Club, Gliding Hutt Valley.